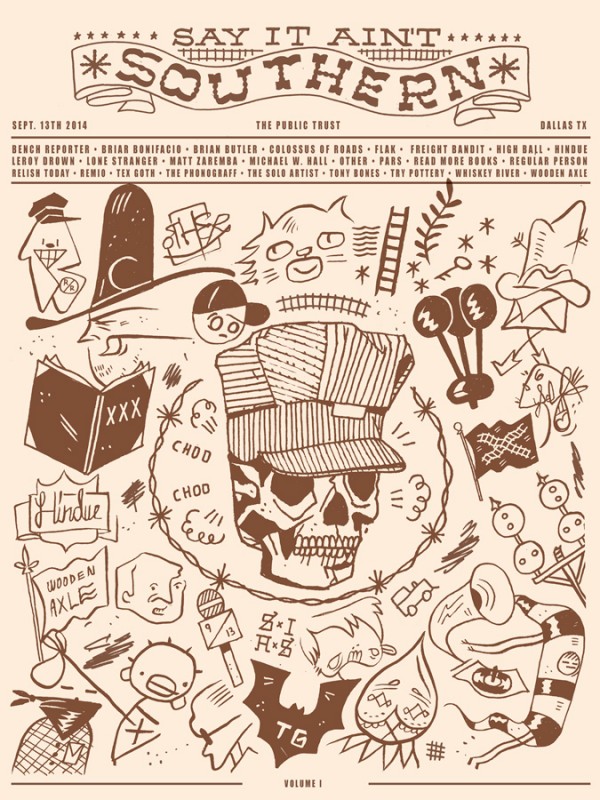 Here it is folks, the Say It Ain't Southern (SIAS) zine release and group art show poster! There will be a limited number of these, signed and numbered, at the release/show happening Saturday, September 13 at The Public Trust. SIAS started out as a daily documentation of freights, monikers and other things I'd come across in the yards. It has metamorphosized into a full-color zine and art show, with an amazing lineup of artists, that's proving to exceed my initial expectations. Train culture is something I am passionate about and I want y'all to feel that when perusing the publication or viewing the show. If you can make it out for the show, say howdy! If not, keep your eyes peeled for the zine and video recap online.
SAY IT AIN'T SOUTHERN ZINE RELEASE AND GROUP ART SHOW
Saturday, September 13, 2014
The Pubic Trust – 2919 Commerce St, Dallas, TX 75226
Group Show Artists:
Bench Reporter
Briar Bonifacio (Broke A2M)
Brian Butler
Colossus of Roads
Flak
Freight Bandit
High Ball
Hindue
Leroy Drown
Lone Stranger
Matt Zaremba
Michael W. Hall
Other
Pars
Read More Books
Regular Person
Relish Today
Remio
Tex Goth
The PhonoGraff
The Solo Artist
Tony Bones
Try Pottery
Whiskey River
Wooden Axle
Props to Brian Butler for the rad poster design!
{ 1 comment }